Filter by Category
Cooking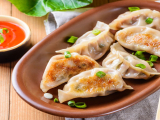 Virtual Cooking Classes with Chris Toy
with Chris Toy
Join cooking instructor and best selling Chinese cookbook author Chris Toy as he shares some of his favorite recipes from his new cookbook, Easy Chinese Cookbook: Restaurant Favorites Made Simple. The class will include 3 full length step by step videos of Chris demonstrating some of his recipes. There will also be video tips for buying and caring for a wok and for selecting, sharpening, and caring for a Chinese cleaver. You will be provided with Chris Toy's email and cell phone number so you can contact him directly for support before, during, and after the class. You will also receive a signed copy of his cookbook that will be available at the Gorham Adult Education office. After registering for the class please call to set up a time to pick up your book. 
Selp-paced, virtual, $54, includes cookbook
*Class links and any additional materials will be emailed prior to the start of class.